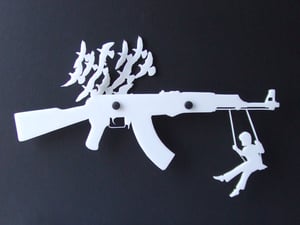 $

100.00 - On Sale
> > Additional images here! < <
The Gun Rack Organizer is designed to be mounted by the door to hold your keys and mail, etc.
Keys can hang off the birds, gun barrel or swinging girl. Pieces can be arranged for more or less shelf space or to sit closer to the wall.
Fabricated from 1/4" acrylic, it's both art and functional in design.
Available colors:
* White
* Black
Dimensions:
18" wide x 10.5" tall x 1.25" deep
Hardware mounting covers are included. But the mounting hardware (long screws) is not included and can be purchased at your local hardware stores.
Designed and Made in the USA.